If you have tile in your kitchen, then it's time to learn how to keep the Kitchen Tile Grout Clean. Grout is porous and will absorb everything that falls on it, including dirt, grease, food particles, spills etc. If these substances are not removed from the surface of the tiles soon after they land there can be serious consequences for your health. This blog post will teach you how to properly maintain your tile grout so that it stays looking new and fresh!
Once grout and tile have been cleaned, we recommend having them professionally sealed. Grout sealer works by protecting your grout through one of two ways: a topical coating that prevents absorption of liquids or a penetrating coating that fills the porous holes in the grout, preventing dirt from filling them instead. The type of sealant you choose
A grout sealer can keep your grout looking clean and new for a long time.
– Grout is a porous material that absorbs stains, spills, dirt and grime easily. A professional grout sealing service will make cleaning easier!
– Tile floors often look better with grouted tiles rather than polished tiles due to the latter being more slippery, which makes it unsuitable for some rooms such as bathrooms or kitchens . For this reason many homeowners prefer their tile to be sealed in order to protect from damage caused by water or other contaminants on the surface of the flooring. This process also protects against cracking , discoloring and fading over time while still allowing your beautiful natural stone work top shine through.
– grout sealer should last about three years
– grouts contain minerals that are susceptible to damage by liquids. If you want your grout to stay looking new for many years, it's best to treat them frequently with quality products like Ironclad from K.O.R. Stone Care Products. This will protect both the color and structure of your grouts against stains and water absorption – after sealing the grouts, they may appear lighter than before because their porous surface is once again filled up with liquid which makes them look darker and richer in tone!
Take this quick survey before you buy for discounts!
Ironclad from K.O.R. Stone Care Products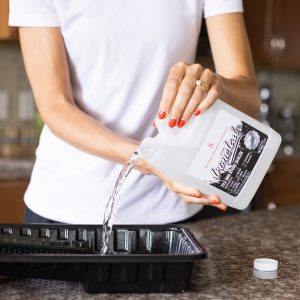 Do you want to make your tile and stone last for years?
The K.O.R. Ironclad "Tile and Stone Sealer" creates a protective layer over porous stone and tile surfaces making them resistant to stains and moisture.
Put down that tile cleaner! You're skipping a critical step which can make your tile and stonework last for years with the help of the K.O.R Ironclad "Tile And Stone Sealer" .
Click this ad right now to purchase the KOR "Ironclad" Tile & Stone sealer today!
Natural "Enrich & Seal" from K.O.R. Stone Care Products
Are you looking for a way to make your tile and stone look better than new?
K.O.R Natural "Enrich & Seal" is the perfect solution for anyone who wants to give their tile and stonework an everlasting sheen. It provides long lasting protection that ensures easy maintenance, so you won't have to hire a maintenance team! Just use this product once every few months or even yearly if needed, depending on how much foot traffic your home gets.
You can easily apply this sealer with just a roller, which makes it practical as well as simple! No need to worry about hiring someone else when you can do it yourself in no time at all! The best part is that our product will leave your surfaces good as new if not better than before they were damaged by the elements or foot traffic. Once applied, the sealer will protect against stains from oil-based products like food grease and makeup while also protecting against water damage like mold growth and mildew formation. This means less cleaning for you!
Click here today to purchase KOR Natural "Enrich & Seal" on our website now!
"Rarefier" from K.O.R. Stone Care Products
Do you have a problem with mold, mildew or fungus on your grout? Want to keep your kitchen tile grout clean?
If so, then K.O.R Rarefier Cleaner is the solution for you! It's a safe and efficient alternative to harsh cleaners that can ruin your beautiful and expensive grout and tiles. The deep-cleaning grout cleaner provides maximum protection against fungus, mold, mildew and algae.
You won't need to waste time scrubbing away at stubborn stains anymore! Just spray it on and watch as all of those unsightly marks disappear before your eyes. Say goodbye to spending hours trying to get rid of them yourself – let us do the work for you! This product will make cleaning easier than ever before while also saving you time in the long run because it works faster than other products out there today.
With this product by your side, we guarantee that no matter what kind of surface you have in mind; be it stone or tile; KOR Rarefier Cleaner will take care of any stain without damaging its original finish or coloration like many other cleaning products would do today. And if that wasn't enough – our product comes with a 100% money back guarantee so there's no risk involved when purchasing from us today! So don't wait another minute – click here now to order yours right away!
Best Practices to keep kitchen tile grout clean:
Keep your grout sealed and free from cracks, stains, etc. by using K.O.R. Stone Care Products every few years if needed. Always follow the directions on the product carefully when applying it to ensure you do not damage any of your tiles in the process.
Disclaimer
" We at Kennedy Kitchens and Baths and K.O.R. Stone Care Products  are a participant in the Amazon Services LLC Associates Program, an affiliate advertising program designed to provide a means for us to earn fees by linking to Amazon.com and affiliated sites."