Your bathroom is a lot more than just where you shower and brush your teeth. It may also serve as a soothing, at-home spa — somewhere you genuinely want to spend time — with the appropriate design techniques. Explore how to decorate a bathroom trending styles use blooms, furniture cabinets, spa like accessories, accents, colors  and more solutions.
The issue:
Although it may appear to be a simple procedure — all you need is a mirror, tiles, and attractive towels — decorating a bathroom can be difficult. A couple of well known designers offer their biggest tips for beautifying your space as a guide.
Vases and Bright Blooms
To brighten up your counter space, place a vintage or distressed vase with a handful of colorful flowers. To tie everything together, add a matching trinket tray and towels.
Furniture Cabinets or Shelves
Built-in shelves are ideal for creating space in any bathroom. Organize them for a clean appearance and so you'll always be able to find what you're looking for.
Spa Feel
Organize your bath towels by rolling instead of folding for an added spa feel. Choose two to three colors that go with the rest of your color scheme.
Larger accents
Designer Jeff Kennedy urges you to go big or go home when it comes to decorating your bathroom. "Larger-scale wall tiles give the bathroom a more modern look and make cleaning it much easier," he explains. But why stop there? Kennedy' also suggests upgrading the quality of your bathroom accent pieces. He particularly likes the look of over size vanity mirrors. 'If you go 10 to 12 inches taller that the door or window frame it will do wonders for the look . Creating an allure of gaining space."
Luxury shower
Shower-tub combos are popular in bathrooms for a reason: they're an space-saving method to get the best of both worlds. However, if you have a lot of square footage, Kennedy suggests separating them. "Don't enclose the tub within the shower," he says. "These are two major focal points in a bathroom, Freestanding tub and the luxury shower"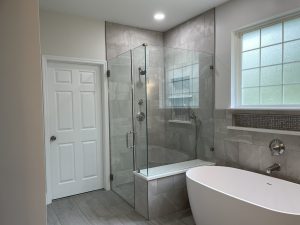 Chic
A clean, uncluttered appearance is ideal for year-round enjoyment. For a quick yet elegant look, add a golden hanging lamp and summery florals.
Experiment with color to decorate a bathroom trending
Because bathrooms are known for their soothing, spa-like ambience, it does not mean they must be devoid of any personality. In fact, this little area is ideal for unleashing your bold side. "Don't be scared to use color," advises Kyle Allen Interiors' Jeff Kennedy. "We always encourage our clients to experiment with color, whether it be a stained vanity furniture cabinet or a custom painted piece.
Why stop at painted accents, though? Wallpaper gives you complete freedom to raise the stakes in your pattern play. "A lot of people believe that wallpaper should be avoided in bathrooms, which is incorrect – as long as there's adequate ventilation," he adds.
Vintage Shelves
Brad Keating from Keating Kustom Designs suggests "Install a few decorative, rustic shelves in your bathroom's empty wall space above your toilet. They may be used to store toilet paper, towels, and ornaments.'
Modern Backsplashes
"A textured and dimensional backsplash is ideal for people who like texture and depth to their space. Combine it with a large hanging mirror to complete the look and make your room feel more spacious." Keating says.
Prioritize your budget when it's time to decorate a bathroom trending style
You want your bathroom to look as exquisite as any other room in the home. But, even if you use large-scale features, bright colors, and a standalone shower, staying on budget is critical — especially when it comes to the smaller details.
"Don't make the mistake of blowing your whole budget on tile in the bathroom," Kennedy urges. "It's easy to get caught up in attractive, pricey marble when it comes to design, but there are several other elements that may elevate the area's luxury level. We adore unusual lighting choices, designer hardware, trending faucet fixtures.
Conclusion
We hope you enjoyed the article and found it helpful in your search for new bathroom ideas. With these designers' views from industry knowledge, hopefully your luxury bathroom renovation will be a success. Book an appointment with us today to have one of our experts help you create the perfect design plan that meets all of your needs. Get started by filling out this form or give us a call at 706.888.8832!