Do you want to furnish your house elegantly with recessed lighting? Well, we have caught you. And here is the solution to your problem. This article will thoroughly explain how recessed lighting can give you an elegant design in a home.
A desire to have a luxurious and elegant house requires a lot of decisions regarding furniture, lighting, ceilings, marbles and tiles, and more. But lighting is one of the important ones because as much as it brings uniqueness and exclusivity, lighting can also make your house look unpleasant. 
So, you might be confused about choosing the perfect lighting that can give you a charming and elegant house. But now, you will not be confused anymore because, in this article, we will jot down all information about recessed lighting.
So, let's dive into this article to see how Recessed Can Lighting Give You an Elegant Design Home.
Recessed Lighting
Recessed lighting, known as can lighting, downlighting, and pot lighting, is a trendy home lighting usually fixed inside the wall or ceiling. Suppose you are at the stage of constructing your house. In that case, you should consider recessed lighting because this type of lighting is installed before the completion of the ceiling.
You can install a downlight recessed from the ceiling to have an elegant home design. Also, you may consider fixing the can lights in the walls at a flanged angle to lighten up the hallway or corridor.
However, installing in-ground lights will illuminate the pathway and create a deep deception of an elegant design mansion.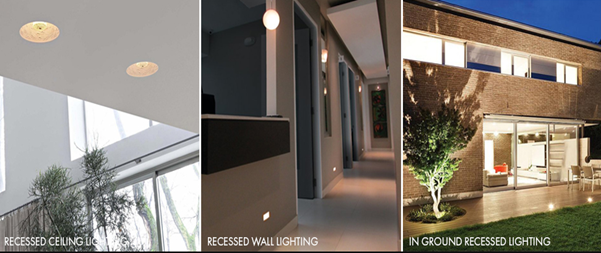 Major Components
A well-appointed home is flushed with lighting to create a warm and bright ambiance. Especially, recessed lighting is best for providing a wealthy and attractive glance. Let's look at the significant components of recessed lights that differentiate them from others.
Housing:   Housing comprises aluminum or galvanized material that encloses all other components.
Junction box: A box that consists of electrical wires used to build connections with other circuits.
Socket: A socket is a connector that clamps, screws, and plugs to provide a safe and convenient connection.
Trim:  An outer visible part, particularly a decorative frame that protects the opening of recessed lights.
Thermal protector:   It is fixed between the junction box and socket to maintain the temperature inside the fixture.
Modern Recessed Lighting Style
To have a contemporary, magnificent home, installing recessed lighting in the ceilings and walls would be the best idea. Modern recessed lighting style focuses on the unique trim styles of recessed light. However, neutral and subtle colors are the major characteristics of modern lights.
Elegantly designed homes mostly install sleek, functional, and sophisticated recessed lights. Thus, they can create the illusion of a bigger room as they are concealed inside the ceiling and don't occupy any space.
Moreover, the trim of recessed lights minimizes the glare, making you feel directed toward the spotlight's beam. It would be miraculous and give your room an aesthetic look.
Traditional Recessed Lighting
A house with vague or faint lighting delivers an obnoxious and unpleasant impression of your home. It may be displeasing and unwelcoming for the people. So, proper light with an exceptional set-up is necessary to make your rooms elegant and eclectic.
Traditional recessed lighting blends with your room's classic and traditional textures, making it look spacious and providing a calm, serene and alluring environment. You should remodel your house and install recessed lighting to make it the most welcoming place for your folks and friends.
Rustic Recessed Lighting
If you have small rooms that often give a messy and monotonous look, consider installing recessed lighting in a rustic style. It can completely transform your rooms, providing an orderly and impeccable place that would be fantastic.
However, the rustic recessed lighting style with its bold, gentle, and celestial colored beam would be bespoke of a royal vanity that reflects your magnanimous personality. Such lighting would surely add glory and value to your elegantly designed home.
Victorian Recessed Lighting
Consider Victorian recessed lighting style if you have already installed can lighting. Still, it doesn't give much charm and an exotic look. It would be an elegant and timeless option to acquire a Victorian-style recessed light in your living and dining room.
Besides giving you a traditional and antique-style room, these lights can create a warm, magical and mystical glare that will illuminate the whole house. After that, you will endure an inspired home in which each corner and texture leaves a holistic example.
Hallway Recessed Lighting
A luxurious-style home always consists of an airy and well-lighted hallway. It would be nasty if you illuminated the whole house with different trims style recessed lighting but left the hallway. An elegant home shines and works cohesively, delivering graceful alchemy of different styles, forms, and textures.
Hallway recessed lighting matters a lot because it can create the mindfulness of place, giving you the impression that it never goes out. So, you should install an elegant design recessed light in the hallway to create gratitude and care in the environment.
Final Verdict
Suppose you are fond of family gatherings and parties at your own home. In that case, your house must be elegantly designed so that people can see the beauty and style in every space. Nevertheless, a contemporary look can only be achieved with a perfect elegant design and recessed lighting.
There is no doubt several recessed lights are available, but you should consider the style you want to attain; rustic, Victorian, or traditional. However, it would be best if you went with the one that is a mix of timeless beauty and grace.
Author
Jeff Kennedy
Editor in Chief
of Vade Mecum of Luxury Journal, multiple site contributor, writer, renovation professional He has been an active participant in the construction industry for 32 years, doing everything from design to finish work.
He shares his unique perspective on renovation and construction through writing about professional experiences. Jeff's motto is that "enjoying what you do is the best feeling." If you enjoy your job with friends, then you will never have to go to work!
Get featured in our magazine