Choosing Wood Floor Color: 2022 Guide
If you're looking for wood floor color ideas, you've probably narrowed your search down to a few types of wood floors. And that's excellent—because there are many aspects to consider when it comes to hardwood floors. The absolute best wood floor color for 2022 is medium grey wire brushed, absolutely stunning!!
That is why we've compiled this thorough list of wood floor color options for you: we want to make your life easier, pal!
We'll go over the many variables to consider when picking a floor color below, including how you can select an accent color that goes with the rest of your decor; we'll discuss the most popular wood floor colors of 2022; and we'll even clarify the difference between staining, finishing, and painting!
Choosing a wooden floor color, on the other hand, is more of an art than a science. What you like may not appeal to others; and the color that your neighbor selected for their floors may not be ideal for yours (anyway).
Keep reading to learn how to match your home, lifestyle, and personality to the wood floor colors!
A quick primer on wood floors: Floors are typically made of , , or (a combination of the three). The more common woods for floors are walnut, oak, and maple. These flooring types can be stained various colors to fit your needs with oil-based finishes. The most popular color stain is ebony because it brings out the beauty of natural hardwood with minimal gloss. Other good choices include mahogany (which has a richness all its own), cherry (with its reddish-brown tone), sapeli (known as "frozen honey" which adds warmth to any room) and Spanish cedar (a great choice if you're looking for understated elegance). Just try to avoid pines.
What to Consider When Choosing Wood Floor Colors
You may be torn between carpeting or hardwood in your bedroom, or you may have chosen to cover your home's flooring with hardwood. In any case, you'll probably want to stick to one wood color and two at the absolute most. And if you do choose carpet, it must be one type.
The aim is to provide your house a unified appearance, not one that is made up of a random blend of floor types, colors, and styles that change from room to room. Here are some things to think about:
Choose a style that works with your existing aesthetics and wood floor color palette
It should go without saying that the color of your wood floors should complement the rest of your home's décor and color scheme. This includes not just wall and trim colors, but also cabinet hues, appliance hues, and other details—as well as any flooring you intend to keep, such as furniture or rugs.
A few key tips to keep in mind when considering a flooring color:
·          Go lighter. One of the best things about wood floors is that they can help make a room look bigger and brighter. "Go as light as you can go," says Jeff Kennedy from Kennedy Kitchens and Baths, "because it makes a room more open." Darker hues tend to be heavier looking than lighter ones, so lightening up can bring visual relief. Also consider how obvious your subfloor will be after installation; if the subfloor tends to show through your finished floor, you might want to go with something more lightweight on top so it doesn't compete visually.
·          Avoid dark stains . Many homeowners fail to consider just how dark that espresso-colored floor is actually going to look in the space, and then end up disappointed with the results. Darker hues can make a room feel smaller or more somber, whereas lighter hues will brighten things up. If you really want that dark tone, consider trying it as an accent rather than across your whole home.
·          Consider both lightening and darkening . A lot of homeowners who are used to carpet realize they maybe were too conservative when picking out their hardwood floors. "They think 'Oh my god, I didn't go light enough,'" says Brad Keating  , owner of Keating Kustom Designs . "They go back and pick something that's lighter."
If you have dark cabinets, for example, you may want to go with a wood floor color that contrasts while still complementing the existing colors. The same might be said for furnishings, worktops, and other décor you don't want to replace.
But you don't always want an exact color match!
You may believe that matching your flooring's color to your trim or cabinet color is a good idea. However, this can backfire and make a space appear bland, flat, and congested with too much of the same thing. Instead, choose something complementary rather than identical!
Complementary colors are any two colors that sit opposite each other on the color wheel. Mixing complementary colors can have a vibrant effect, as seen in this kitchen.
Another way to use color effectively it to accent one part of a room with something bright and unexpected. In this living room, pops of hot pink add an exciting element to the neutral space.
Accenting with one bold piece gives you just enough visual interest without overwhelming your space! Try adding a pop of color near a large window for maximum impact!
Incorporating elements from nature into design is also a great way to infuse color into your spaces for added warmth and personality. Vibrant green plants against white walls or furniture bring life and energy to rooms
Remember: dark wood floor color can make small rooms look smaller
You probably know that a dark color for a little space can make it appear even smaller. Dark-colored wood flooring is also true in tiny rooms! But there are some exceptions to this adage.
If the room is well-lit or has light wall hues, dark flooring may be a good option. Other wood floor patterns, wider planks, and other strategies to minimize dark hardwood floors' shrinking effects are options.
But in dimly lit rooms, or if the color of your flooring is too dark for your room's light tone, dark floors may make rooms seem smaller.
Minimize Dark Flooring's Effect on Space
A lighter shade of flooring will visually open up a space. If you can't change to new wood floor , paint walls white or find another way to brighten the room . Keep windows clean and mirrors free of clutter to allow more natural light in, according to the experts at HGTV . This will minimize spaces with darker wood floor patterns obscuring them with shadows.
Darker Wood Floor Patterns May Also Be Lighter When…
Wood floors that are-inch planks or thinner or made of more than one piece of wood will generally appear lighter, according to the experts at HGTV. This is because darker wood floor patterns have fewer rows of planks per square foot.
A wider plank may be up to an inch and a half, but if it is less than .625-inch thick , it can look light enough to minimize dark hardwood floors' shrinking effect on visual space. Wood flooring with this width are often hardwoods with red undertones, such as Brazilian cherry wood. They are usually labeled "tiger strip" bamboo by retailers due to its distinctive grain pattern .
Wood Floor Patterns that Don't Shrink When Small Spaces Try Them Out
Stick with oak wood floor patterns in larger rooms if you're concerned about their darkening effects.
If your room is already large, a darker tone of wood will work – but it's often more expensive. If you have the budget , buy a darker wood with a wider grain so that planks are at least .75-inch thick. This way the color won't seem as thin and spread apart as it does with thinner wood flooring colors. Black walnut may be an option since it has a wide grain and is just dark enough to minimize how much it can shrink spaces visually.
In smaller rooms, however, stick with lighter shades of oak instead of black walnut for best results when using dark hardwood floors to make rooms appear larger more spacious.
Pick complementary colors for rooms that can't accommodate hardwood
If you know you'll need hardwood flooring in particular rooms (like the kitchen or a bathroom), choose a color that works with other materials – such as tile, vinyl plank, laminate, and so on.
There are several excellent hardwood floor alternatives, and it's critical that you pick ones that match your existing wood floors (and vice versa). Insider secret: some of the greatest hardwood floor brands also produce fake wood flooring, which means you may frequently find similar finishes across different materials!
Consider your lifestyle before picking a wood floor color
Wood floors that are dark in color tend to get scratches more readily than light wood floors. Light wood flooring, on the other hand, may make you feel as though you must vacuum constantly since they pick up dirt. Are you a regular cleaner? If that's the case, a light floor might be ideal for you. Do you have children or pets? Perhaps a dark floor would be better for your lifestyle.
This is a very common mistake when picking a wood floor color.
If you have children or pets, pick a dark wood floors because it hides footprints well and dirt is less visible on them. Also if you have marble/tile floors in your kitchen and plan to install a wood floor in your whole house then consider a dark color to make the room look brighter.
On the other hand if you don't like spending too much time cleaning up after kids, pets or even yourself (footprints can be seen clear as day on light colored woods), go with lighter colors such as white oak, maple, cedar etc…you'll thank me later!
Another thing worth mentioning is that some people may find that darker flooring makes their home feel smaller while lighter floors can make rooms feel brighter.
Keep these tips in mind when picking a wood floor color for your home.
Read our full article on the subject , it has more details plus some other interesting facts!
If you are looking for a reliable source of information about wood flooring, here's the right place to start! From exotic woods to engineered vinyl, we've got it all covered. We'll give you useful advice and guide you through the whole process so that you end up with just what you were dreaming about since the day you first decided to install new floors instead of carpeting or tiles. You can find them at Kitchen and Bath Renovations where they specialize in solid hardwood.
And think about your wood type as well
Many types of scratch-resistant flooring, including bamboo and Teflon, are quite smooth to the touch. This makes them less prone to scuffing or scratching than pine is (if you've looked into the benefits and drawbacks of pine flooring, you'll know it's extremely soft). As a result, you won't need a light covering to hide wear; instead, you can go for comfort! The same may be said about most forms of scratch-resistant flooring.
On the other hand, pets and children may introduce a lot of dirt and debris from the outside. After all, the best wood flooring for dogs isn't only durable – it's also forgiving of flaws and damage. And this is where lighter shades come in handy.
Consider it this way:
You'll be able to see Fluffy the cat's fur all over your light-colored floors if she's midnight black. If you live in a rainy region, wet, muddy shoe prints will appear more frequently on dark surfaces, whether they're made of water-resistant wood flooring or not. It's all about balance!
The Pros and Cons of Trendy Colors vs. Timeless Styles
Whether you're paying a professional to install the finest engineered wood flooring available, having your handyman pour concrete that seems like wood, or doing it yourself, the hue and style you select for your floor will have an immediate influence on its cost and resale value. The trendiest color, the hottest pattern, or the latest style will have an immediate impact on your bottom line.
If you're looking to be hip and update your floor after only a few years, the latest colors are what you want to focus on exclusively. However if you're trying to achieve resale value in your home, timeless styles are still best because future buyers can't predict current trends. It's possible that next year there may not be any demand for dark purple floors with black swirl patterns anymore – so why pay extra?
Choosing trendy colors is less expensive than choosing timeless styles because it means paying attention solely to market demands rather than long-term goals or investing in something that may end up being out of style later on.
You could opt for a classic and timeless wood floor color or a contemporary and fashionable one. There are benefits and drawbacks to each style choice, but you might discover a wood floor color that is the best fit!
Trendy colors will help sell a home in the near future
Some homeowners choose to put wood flooring in their house before putting it on the market as a method to modernize it. If this is your strategy, you should educate yourself about how to install hardwood floors so that you may improve your overall ROI—and pick a cool wood floor color would be a smart idea.
Currently, popular wood floor color include
Dark stains on charcoal-colored wood flooring—particularly dark or light-colored hardwood flooring may provide your house a very contemporary feel. I Dark flooring spots add a dramatic flair to the room that grabs people's attention. The hardwood flooring used in the projects below is typically made from mahogany or walnut and stained ebony or charcoal black.

Natural-looking

wood that's finished with a strong lacquer. A clean and simple design with plenty of room for your important data. These are the things we tell ourselves as we sit down in yet another soulless conference room filled with bare white walls, beige carpets and those bulky, unforgiving chairs that make your back ache after 10 minutes. It's not always easy to find the beauty in a workplace – especially when you never leave one – but if it's wood you want then look no further than German furniture manufacturer JUNG . Their broad range of office furniture offers not only a healthy dose of natural materials like solid wood, steel and glass but also an array of unique designs by top architects
Mixed beige and grey tones. These colors, when paired with white/off-white cabinets and trim can help your home feel rustic while still remaining on-trend. If you're feeling more daring and want to go bolder, try a dark grey like Benjamin Moore's Onyx Black . If you're thinking black, steer clear because it can make the kitchen feel cramped.

Black

is smoky and moody and can cause your kitchen to feel smaller than it actually is. We love the idea of using black as an accent color. You could paint just one wall or use it as an accent behind your stove top. Just remember that there are so many other wonderful colors out there that bring just as much drama without having such a strong impact!
Different shades of blue paired with white cabinets and trim
We'll talk about these in more detail below, however.
Classic looks can be an advantage for long-term resale value
It's difficult to predict what trends and wood floor hues will be popular in the future. This implies that you should avoid trendy styles and stick with the timeless aesthetic of warm, neutral browns.
When you pick a color for your wood flooring, the most popular choice is to go with a shade of brown. If and when you decide to sell your property, you can be certain that it will complement your inside and not turn away potential buyers.
After all, replacing carpet with hardwood—or simply putting in a different wood floor—may be rather costly. Even the cost of installing engineered hardwood floors is nothing to sneer at. The last thing you want to do when selling your house is make an investment that doesn't pay off.
Some types of wood offer a happy medium
You may generally find a color scheme that is perfectly in the center when you buy hardwood floors.
Teak flooring is one example. Teak wood is naturally beautiful and does not need to be stained, which contributes to a more modern, trendier appearance. At the same time, teak wood boasts warm, honey-like tones that give these floors an ancient feel.
Teak wood definitely evokes a sense of permanence.
Natural stone is another material that offers enough variety with its different colors, textures and patterns to satisfy the designer in all of us. From limestone to marble, there are many types of natural stone that can be used for flooring. Natural stone floors are very durable because they are resistant to damage from chemicals or household spills. They are usually sealed at the factory before shipping so you don't have to worry about sealing them yourself when installation is complete.
It can be hard to tell in pictures what type of flooring will look best in your home, but you shouldn't let that stop you from requesting samples. You may also want to ask any discounts are available for bulk purchases.
The Most Popular Wood Floor Color of 2022
The most common colors in the United States, as we said before, range from near-black to natural unstained lacquer. Along with dark charcoal and near-black, here are a few of the most popular 2022 wood floor color themes:
50 Shades of Grey—the wood floor color edition
Gray is back in style, and it's not just on your bookshelf. Grey wood flooring are more popular than ever before these days. Furthermore, there's a hue of grey to match nearly any color scheme, decor, or personal taste:
Vintage Driftwood, jasper grey, and cashmere grey are all light greys with cool undertones.
Smoke grey, carbon grey, or a mixture of ebony and walnut stains are all excellent choices for dark grey wood floors with (mostly) cool undertones.
You can choose to add a bit of brown stain to any grey stain to warm it up if that's your preference.
You can make any color or stain combination you want; all you have to do is imagine it!
Warm, earthy, and comforting
Warm, earthy hues are a popular choice among many homeowners when it comes to their wood flooring since they provide a traditional appearance that will never go out of style. When it comes to popularity, the earthier, the better nowadays.
The presence of a lot of coffee stains on your floors will provide a more yellow color. All golden stains will provide a mild, yet warmer tone to your flooring.
Wood-based stains are usually warm and earthy in hue. Beautiful, natural-looking color choices may be found by looking for names that include species such as pecan, oak, mahogany, chestnut, and cherry.
Avoid stains by avoiding the color red; they won't be fire engine red, but instead a more auburn tone.
Choosing an earthier hue would look excellent in a space with a warmer color palette. These hues also look stunning when paired with stark white walls or utilized with complicated wood floor patterns.
Au natural wood flooring is becoming popular as well
Natural wood flooring might be your answer if you don't care for super-dark floors, grey tones, or warm earthy neutrals. After all, you may always choose to show off the natural attractiveness of your wood by adding just a clear finish for protection. And, of course, this is an excellent choice for almost all types of wood flooring.
Staining, Finishing, & Painting: What's the Difference?
When shopping for hardwood floors, you'll discover that most of them are already pre-finished. If you want to lay unfinished wood flooring, staining, finishing, and painting may quickly become familiar words to you. While many individuals use these phrases interchangeably, the following are their meanings:
Staining changes a wood floor's color—and it's quite common
The majority of the time, individuals stain their hardwood floors in any of the colors we mentioned above. Staining allows you to dye your flooring whatever color you want without spending a lot of money on rare woods.
Finally, by staining your hardwood floors, you may personalize the overall appearance of your house. Many wood floors are now pre-stained.
Finishing a floor helps to seal and protect it
Even if you don't want to stain your floors, you'll need some sort of finish on them. A wood finish can protect your wood from dents, scratches, and nicks while also giving your floor a smooth or matte sheen. Finished wood floors are more resistant to water damage, making them better suited for mudroom flooring, sunroom flooring, or other high-traffic rooms.
Engineered wood flooring is often pre-finished, so keep that in mind when considering its benefits and drawbacks. It wouldn't necessarily be on the list of engineered wood disadvantages, but it may be aggravating if you want to finish your own floors.
However, engineered wood is frequently offered as a click-together floating floor, making it one of the simplest types of flooring to install (just behind peel and stick carpet tiles). There are certain disadvantages linked with floating floors, but putting them down isn't one of them.
Painting wood floors may hide imperfections (but can also hide the grain)
When it comes to wood floor color, there's one more alternative: paint.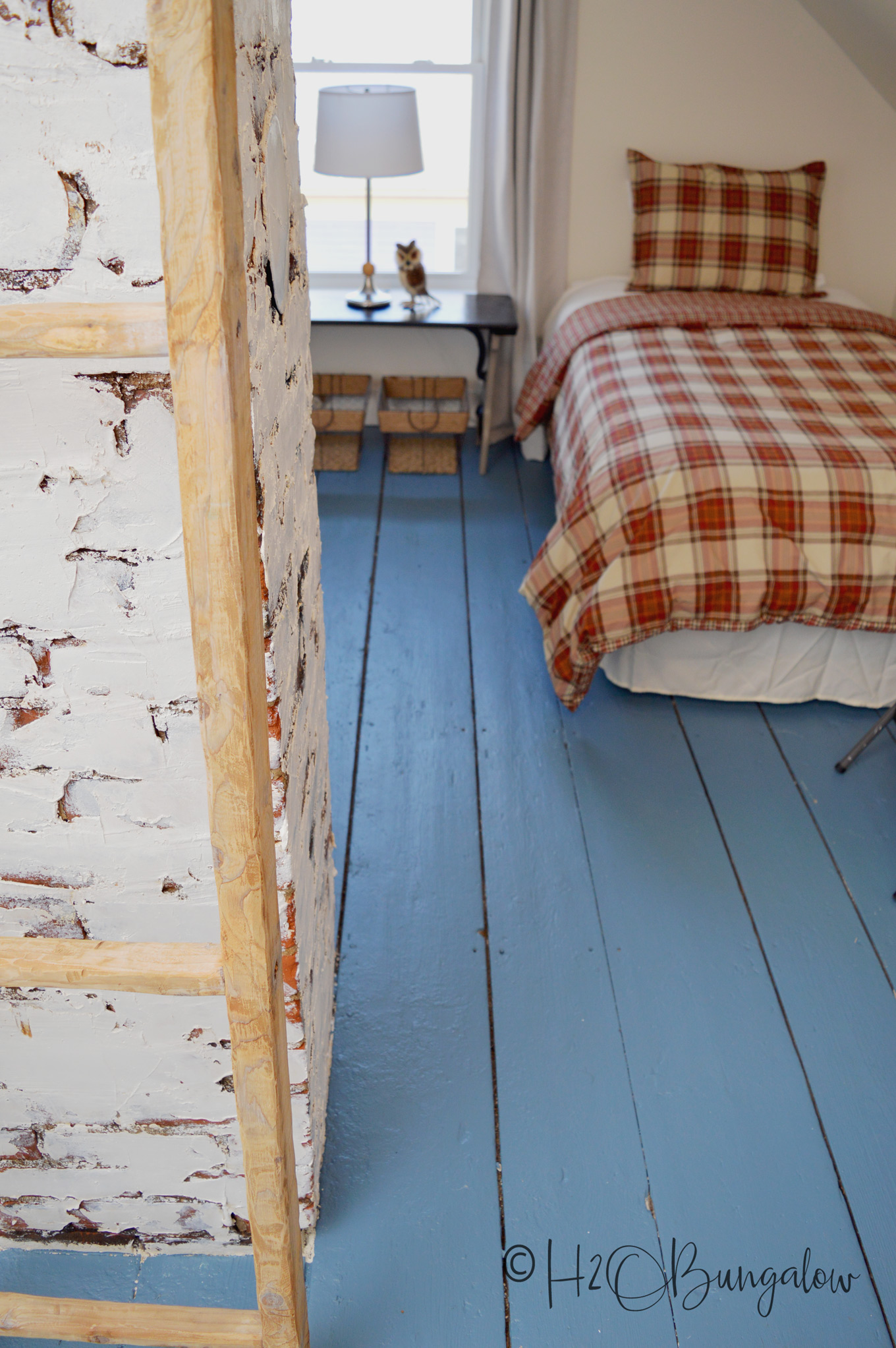 Painting hardwood floors is a fantastic way to cover old, discolored stains. It's also ideal if you want a color that isn't grey, brown, or natural-looking wood (think blues, greens, or purples!).
Keep in mind that painting your wood floor might hide any flaws, but it will also conceal the majority of the grain that makes it distinctive. Finally, if things get really bad, you may always bleach wood floors to remove any particularly persistent stains.
Just Remember: the Only Person Who Needs to Love Your Wood Floor Colors Is You!
The most significant thing to realize about wood flooring colors is that they should make you happy! Yes, you may opt for something popular, on-trend, or guaranteed to increase your resale value, but why bother if you despise the whole appearance?
You can easily change the color of your wood flooring with a few swipes of a paintbrush! Whether you're decorating a wooden bathroom or redecorating your whole house at once, you're the only one who matters when it comes to your wood floors!
Image from : h2oBungalow
Conclusion
We want you to be happy with your purchase, so if you've read this blog post and are still unsure about what color of wood floor would work best for your home or business, schedule a consultation today. Our professional design consultants will help guide the decision process by suggesting colors that match well in all types of lighting conditions, giving advice on how much traffic should go over the floors per day (and which type), and more. With decades of experience in cabinetry and countertops as well as a wide range of hardwood species from across the world available online here in Columbus Georgia – we can make sure everything goes perfectly! Contact us today at 706.888.8832