The bathroom is one of the most important rooms in your home. It's where you go to get clean, refresh and relax. The right architectural plans can help make the designing a new or remodeling bathroom process easier and more efficient. In this blog post, we'll discuss what happens during a typical renovation from start to finish with architectural plans!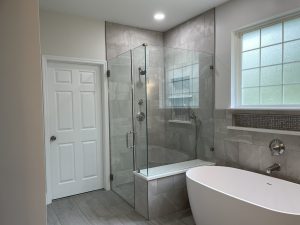 The Project
The luxury bathroom boasted a level of craftsmanship that exceeded client expectations. Boasting a double stacked recessed niche, a linear drain on a slab with a zero entry shower floor and a recessed tub niche with a wall mounted tub filler, the finished space is a true testament to the brand's insistence on perfection.
The Process
Bathroom renovation. Designing a bathroom with architectural plans from start to finish, what can be done. The process of designing a new or remodeled bathroom easier and more efficient. Having an idea of where you want the project to go will make things much smoother in the long run! First steps are drawing up your ideas and getting a plan together. You can begin researching bathroom fixtures, colors and designs to find the perfect look for your room!
You can visit bathroom remodeling design showrooms or browse photos online.
The next steps to take are hiring an architect and getting the architectural plans drawn up. Architects specialize in designing homes, so they're familiar with how everything should work together to create your dream bathroom! Working directly with the architect will ensure that their vision matches yours exactly! You may even like the bathroom design so much that you decide to take on their role and become your own architect!
One was an alternative.
Interior Design:
The team was excited to show off their designs, which they had prepared with the specific needs of this client in mind. The initial mood boards from Veind Studios paired beautifully against each design while Anna Gutowska's drawings gave an excellent perspective on what could be done through artful sketches alone for both small kitchens or large spaces like bathrooms remodels!
The presentation began by introducing both firms involved: Kennedy Kitchens', Kyle Allen Interiors'. Together these professionals have years of experience designing luxury bathrooms across various budgets–from Cost Effective up towards Luxury
The Renovation:
The finalized design was complemented with bathroom products that not only met but surpassed all of your needs. Challenged by a shower, bath tub and sink in one space? No problem! These simple elegant fixtures have you covered from head to toe for this year's festivities or just everyday life too.
Signature Hardware 60" x 32" Soaking Tub and Tub Spout
Boasting a neat profile and a pristine look, the Signature Hardware 60" x 32" Soaking Tub is the perfect addition for a contemporary bathroom. The tub requires little maintenance and was a sleek and practical solution for the limited space. Accented with the Signature Hardware Tub Spout, the luxurious soaking tub is a fitting addition in the chic bathroom.
Signature Hardware 8" Widespread Bathroom Sink Faucet and Undermount Sink
Featuring a gooseneck spout and complementary lever handles, the Signature Hardware 8" Widespread Bathroom Sink Faucet completes the minimalistic look of the Signature Hardware Undermount Bathroom Sink. Since it has clean lines without a lip or crevice, the sink allows dirt and water to slide away without accumulating and leaving streaks behind.
Signature Hardware Shower Faucet Trim Kit and Moen Handheld Shower
The clients asked for a recessed shower and glass shower system that could blend in with the existing décor and enhance it at the same time. Kennedy Kitchens and Baths delivered along with essentials that made the shower a luxury element in the modern layout. The faucet fit elegantly in place right underneath the practical shower head thus creating a clean look.
The Moen Hand Held Shower boasts a brushed nickel finish for a warm metallic look. The eco-performance handheld shower is designed to conserve water and also includes a vacuum breaker that prevents back siphonage.
Signature Hardware Towel Bar, Towel Ring and Robe Hook
Keeping practicality as well as elegance in mind, the team at Kennedy Kitchens and Baths paid special attention to bathroom essentials that play simple, yet integral functions. The Signature Hardware Towel Bar, Towel Ring and Robe Hook were handpicked for the final layout because of their sleek, yet minimalistic design which lend itself so perfectly with the modern aesthetic the client was looking for. Featuring a metallic finish, the towel fixtures blend really well into the surrounding décor.
Millennium Lighting 1 Bulb Wall Sconces
When it comes to bathroom ambience, the right lighting can turn even a minimalistic design into a spacious masterpiece. The lighting options in this project were no different. The team installed Millennium Lighting Bulb Wall Sconces on each side of the mirror with bulbs that cast an incandescent, yet gentle glow that did not create feature-obscuring shadows.
Tasteful Paint and Grout Colors
Overdo the color of the tile work and a bathroom can easily pass for a hospital room. The team at Kennedy Kitchens and Baths chose 'Driftwood' scheme for the grout color. Soothing 'Linen' and 'Ice Blue' from Sherwin Williams were a perfect paint choice.
Custom Cabinets and Furniture
In order to maintain the minimalistic design intact, the team chose to incorporate 9 non-invasive and stylish custom cabinets for essential storage. The cabinets were from Kyle Allen Interiors and boast quality craftsmanship, timeless colors and a design that speaks for itself. Made from hickory this custom vanity furniture is from the Pride series. All featured in the September issue of Vade Mecum of Luxury!
Conclusion
Turning your boring bathroom remodeling  into a luxurious oasis? We can help. Kennedy Kitchens and Baths specializes in luxury bathroom remodeling services with an emphasis on aesthetically pleasing design that will make any space feel like home. Do you need new tile or flooring installed, fresh paint for the walls or ceiling. Want to go as far as adding custom cabinetry for storage needs—we have all of those details covered! Do not hesitate to reach out if you would like more information about our process; we are happy to answer any questions over the phone at (706) 888.8832 or email at jeffkennedy78@gmail.com . Send email requesting before pictures.